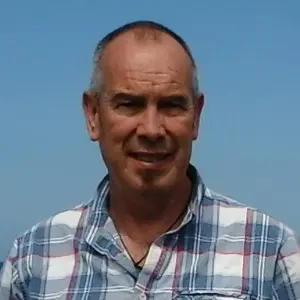 Let us introduce to you Richard your Locals & Landscapes Guide on the fabulous West Coast.
This morning Richard will arrive to greet you and be your guide for the next few days up our scenic West Coast. Richard has lived all his life on the West Coast. As a Kiwi Host, with 20 years Tour Guiding experience, Richard has a widespread knowledge of conservation, flora and fauna from the Alps to the sea.
On your guided tour we will experience Maori and local history. We will take short walks viewing scenic landscapes and natural attractions.
A passionate advocate for the protection of the region's flora and fauna, he loves to share its unique qualities with visitors who have ventured to this remote and spectacular region.
Trip Highlights - Day One:
Your West Coast experience begins with a morning journey on the famous Tranz Alpine Train. You will travel from Christchurch through the patchwork of the Canterbury Plains and into the Southern Alps disembarking at Arthur's Pass National Park.
Richard will be waiting for you at Arthur's Pass and take you on a guided walk to stretch your legs after your train journey and to encounter the Alps.
Enjoy a stop for photos at Death's Corner.
Possible viewing of Kea, the world's only alpine parrot and you'll see the amazing viaduct
Enjoy lunch
At Hokitika, you will visit with a couple of selected artists in their homes or galleries. This may include a local copper artist, a sculptor whose medium is native wood trunks or a carver who specializes in carving pounamu (local jade)
Hear lots of stories on the history of the area and conservation efforts as well as enjoy scenic stops through this day. There is the opportunity for a helicopter flight onto the glacier in the afternoon or the next morning. This helicopter option is not included in your tour price.
Arrive at "Glacier Country" and drop off to accommodation at either Franz Josef Glacier Village or Fox Glacier Village.
Trip Highlights - Day Two:
After Breakfast Richard will meet you and day two of your West Coast Adventure begins:
Richard will guide you on a walk through the glacier valley.
Possible scenic helicopter flight this morning (weather depending) including snow landing if not done the day prior. This Helicopter option is not included in your tour price.
You then leave Glacier Country for Lake Matheson rainforest walk and possible reflections of Mt Cook and Mt Tasman in the deep still, waters.
A chance to meet with a local couple and talk about their life in this area.
Lunch will be one of two options: a farm lunch with a local couple (the most likely option) or a walk to the beautiful, isolated and wild Monro beach for a picnic lunch
Short walks throughout the day may include Ship Creek "Floating Forest" walk, the first part of the historic Haast Cattle track
Enjoy a stop at the Knights Point Lookout for endless views of the Tasman Sea and the possible sightings of New Zealand fur seals, Hector dolphins and a variety of pelagic birds.
Late afternoon arrival at Guest Lodge. This bed and breakfast accommodation is in a remote region and has been built against a backdrop of ancient rainforest and mountains and faces west to capture the magnificent views of the OkuruRiver estuary and the Tasman Sea. Accommodation for this night is not included in the tour cost. (Stay in Haast can be changed for Wanaka)
Evening trip to Hapuka Lagoon and Estuary for evening sunset and bird watching
A real locals experience will be enjoyed when you have dinner at the local pub! Cost of dinner is not included in tour cost.
On your return to your accommodation, you can soak in the views as you gaze out over the Tasman sea as the sun sets. A warm welcome awaits you with your host Neroli who is just delightful Westie and Artist.
Trip Highlights - Day Three:
After Breakfast Richard will meet you and day three of your West Coast Adventure begins:
By the Tasman Sea, you will have your final day discovering the West Coast with Kevin.
Your day is filled with short walks and sightseeing over the Haast Pass route. These walks are to picturesque waterfalls set amongst the stunning rainforest, over a swing bridge to see the unreal Blue Pools, walk amongst a forest filled with curtains of moss and enjoy many photo moments.
A possible optional trip on New Zealand Tourism Award Winner "Haast River Safari" jetboat with drop off to Roaring Billy Falls. Cost is not included in tour price
Arrive in Wanaka in time to admire and view this charming lakeside town before taking to your lunch stop for picnic lunch.
Enjoy a picnic Lunch at either Glendhu Bay, Matukituki Valley or Rippon Vineyard.
Your last stop before Queenstown is at the historic Cardrona Hotel for afternoon tea. Cost not included in tour price
Late afternoon arrival at Queenstown where Richard will bid you goodbye at your Queenstown accommodation.
To enquire about Price of the 3 Day Tour please email so we can arrange to check Accommodation options, please email david@nzencounters.com