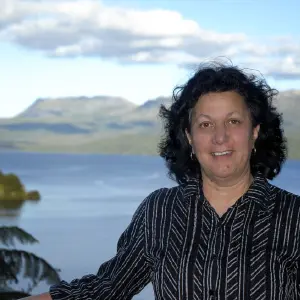 Karen comes from a long line of Tourist Guides and is the great great great Grandaughter of Kui Guide Sophie who guided in the Rotorua region dating back some 126 years.
Karen a gracious Maori Lady with a heart of gold and passion to keep alive today the culture of her tribe that once lived in the ancient Village of 'Te Ariki' the closest Village to where the Pink and White Terraces once stood and which were sadly lost to the Mount Tarawera eruption of 1886.
You will learn of the significance of Lake Tarawera and Maori traditions as you find yourself at Punaromia – The Tarawera Landing where you will board a boat and follow in the footsteps of our dear Kuia, Guide Sophia as you cross the lake to where the Pink & White Terraces once stood majestically on the water's edge.
TRIP HIGHLIGHTS
A journey by boat from Punaromia – Lake Tarawera Landing following the footsteps of Guide Sophia to where the Pink & White Terraces once stood
Learn of the herbs and plants the Maori used from the forest
Visit Karens Maori Village of Whakarewarewa to including a visit to her Marae
Gain a Maori perspective on current issues
View Geothermal activity, bubbling Mud Pools and hot springs
Gourmet traditional Lunch of Kai Maori – Herns and foods.
Visit the Beautiful Redwood Forest and Native Bush
Endless photographic opportunities
Visit the pristine lakes and see exotic native plants
Walk to ancient Maori Rock Paintings and to the shores of Lake Tarawera.
A wonderful experience and a photographers dream.
Pricing and Inclusions
NZD$1,050.00 Full Day includes Gourmet Lunch based on Two Persons

Additional Persons including Gourmet Lunch.

Combined your tour with a stay at Karen's Pounamu Lodge with stunning views of Mt Tarawera and the Lake.

NZD$2,130.00 2 Nights Stay to include Evening Drinks and Canapes, Breakfast and a Full Day Tour with Karen as above and to include a Gourmet Lunch for Two Persons.

Full Evening Dinner at Pounamu Lodge $75.00 NZD Per Person